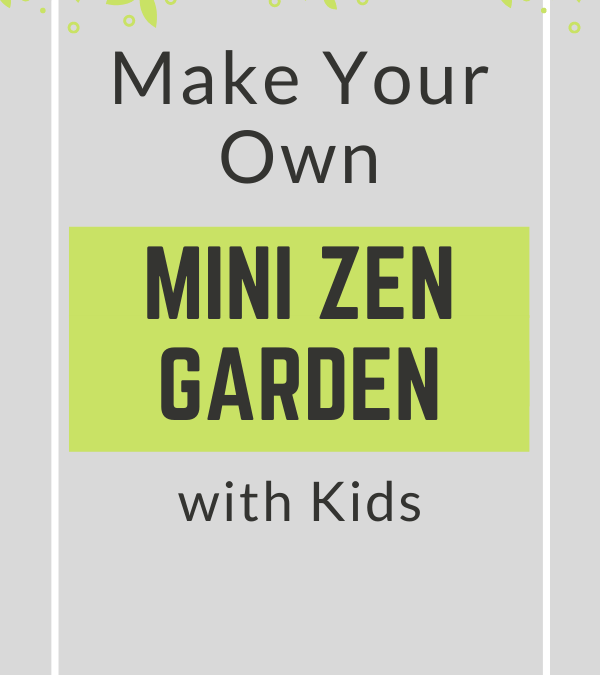 Make Your Own Mini Zen Garden with Kids
Discover how to make your own Mini Zen Garden. This is a perfect mindful activity for children and adults!
A Zen Garden is a simple item to make with kids and it is absolutely loved by all ages. It is also an easy strategy to help kids relax and calm down after a busy day or stressful time. I also love how it can be used indoors at any time and doesn't take up much space!
When I think on all the times I've done art activities with children, it is truly a time that has allowed for creativity, self-expression and connecting. Our hands were busy, and the creative juices were flowing.
The creativity and self-expression that shines when a child is involved in crafting and creating is important in childhood development.
Merging yoga with craft time will only expand the benefits children receive as they move their bodies and allow imaginations to flow.
How to make your own
Mini Zen Garden
is included in our new bestselling book,
Go Go Yoga for Kids: Yoga Games & Activities
includes over 150 activities to keep kids engaged, thinking creatively, and practicing self-expression.
How to Make a Mini Zen Garden:
Supplies:
Baby plates or a container that won't break easily
sand
rocks, crystals, melted crayon (for jewels!) or any other small item
wooden or plastic fork
Directions:
Add sand to your container. Include rocks, or crystals. Use your rake (fork) to draw designs in the sand.
See More Yoga Crafts and Activities Below:
Conclusion:
When you become inspired through your creating your energy is lifted. Just like yoga, there are a number of benefits that come along with crafting, which is known to help kids develop fine motor skills, teaches children to follow instruction while also allowing them to express themselves, and creates bonds, whether that's with a parent, teacher, or peer.
Exploring art with children is the perfect way to connect. This is true for all ages!