Hello and welcome to our Kids Yoga Lesson Planning 101 series! I am so excited to have you here.
Get your printable workbook and lesson plan template here.
Creating kids yoga lesson plans is one of my favorite things to do. I love putting all of the varying pieces together to create an engaging, memorable, and fun kids yoga class. One that will make them want to come back again or practice yoga on their own!
Have a Plan in Place
It is very important to have a lesson plan in place before teaching a kids yoga class. Kids thrive on structure and having a plan helps you be intentional and build on previous skills. Children have the desire to learn and try new things. Being organized and prepared helps you take advantage of your limited time with them.
Having a lesson plan or guide ready to go will help you be prepared for teaching yoga to children. This does not mean that you cannot be in the moment and be flexible, but it does mean that you will be prepared for any unexpected event that comes your way.
The attention span of children is short, much shorter than adults. It is important to have a variety of props and activities to help your class run smoothly and accomplish what you want with the time that you have.
Have a Flow and a Purpose
The Go Go Yoga for Kids Lesson Plan format is a no-fail proven formula for teaching yoga to children. This format has been used successfully with thousands of children that gives them the opportunity to grow and learn and for you to teach.
The Go Go Yoga for Kids Lesson Plan format includes each important component of how to successfully teach a quality and engaging kids yoga class. One that they remember and want to come back to yoga again and again!
Our lesson plan format is based on a 45-60 minute kids yoga class. That doesn't mean that you have to use every part or component and be tied rigorously to it. I want the plan to work for you! However, as you will find, each part of the lesson plan does serve an important and different purpose in creating a satisfying and memorable experience.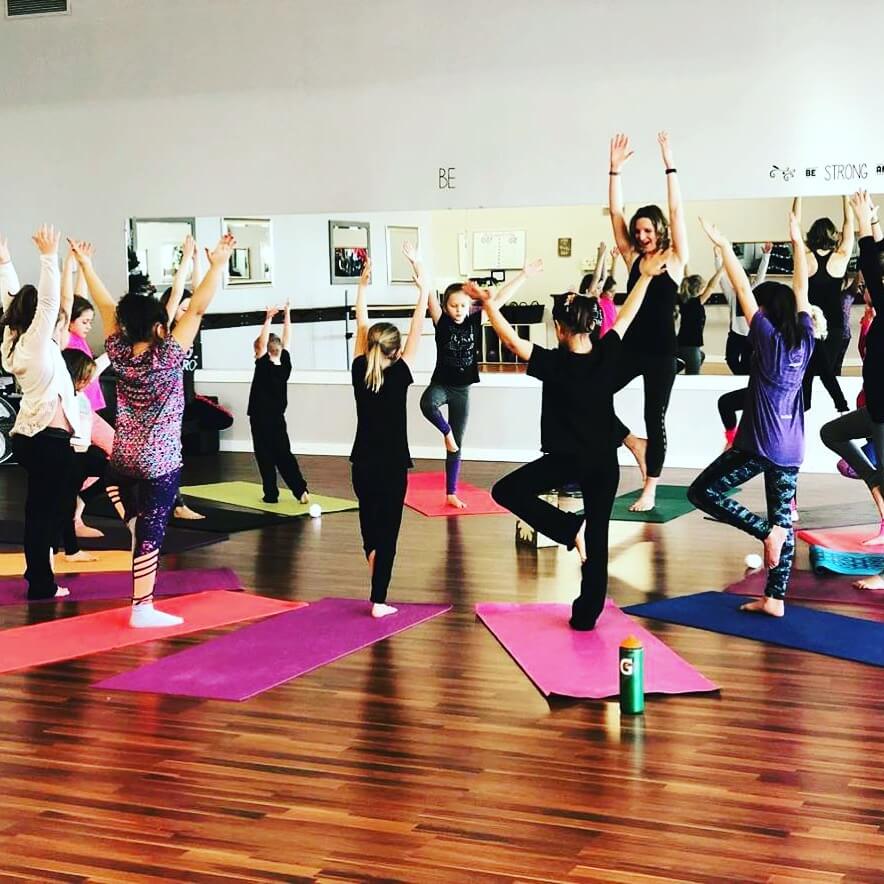 Ready to Go
For those of you that want to dive in deeper, our bestselling book; Go Go Yoga for Kids: A Complete Guide to Yoga with Kids covers in full detail each component of teaching a kids yoga class and why each part is important It also includes numerous examples and activities to do with each component of class.
---
My hope is that once you complete all 9 Parts of our Kids Yoga Lesson Planning 101 Training, you will feel like Courtney S. one of our recent graduates!
"I just finished your Kids Yoga Lesson Planning 101 youtube videos! I enjoyed it very much! While I watched your videos I made my first lesson plan to use! I also completed not too long ago your online kids yoga teacher course also, so its game on! lol.
I personally enjoyed learning the different ways of active movement, and the idea of getting the kids hearts pumping right before actually getting into yoga poses, and savasana will ALWAYS be a favorite for me to learn, teach, and do also lol! It is such a good way to soak up the benefits of the poses. I cant wait to connect with the kids in the way you say in your videos while performing and coming out of savasana, I obviously know what it feels like, and I've taught my own children, but to connect with kids that aren't yours is truly magical and in this day and age, they need all the positive role models they can get. I'M SO EXCITED! Thank you so much for the videos!" Courtney S. Kids Yoga & Mindfulness Teacher Training Graduate
---
You May Also Enjoy:
Why You Should Teach Yoga to Kids
How to Play the Listening Game with Children