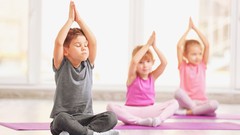 Are you ready to make a difference in children's lives?
Welcome to our How to Teach Yoga to Kids online course. We are very excited for you to be a part of it!
For a limited time we are able to offer this course for only $10. This course is priced at $40 and I am very confident you love the value and learn so much by enrolling now.
Included in your How to Teach Yoga to Kids  Course:
Discover what is kids yoga and how it differs from adult yoga
Learn how to teach yoga to children through exercise, movement, yoga poses, games, and mindfulness techniques
Recognize the benefits of yoga for kids and how to teach yoga to children that will give them the skills that will last for life
 Learn the top 8 breathing exercises and techniques will be taught that will help kids remain calm and focused in their daily activities.
Become aware of child-friendly yoga poses, games, exercises, and activities are shown that actually help children practice and remember the yoga postures.
Take the guess work out of what is really effective with teaching kids yoga and get the top recommended resources including books, props, games, and materials.
This course is also packed full of bonuses including:
 Kids yoga lesson planning guides and templates
Ready to use kids yoga lesson plans
 Illustrated yoga pose guide, the top resources for kids yoga, and a live yoga partner pose class with children.
A certificate of completion is awarded at the end of your course.
 Here is the link to your How to Teach Yoga to Kids Course. What are you waiting for?! You can get started now and complete and start impacting young lives today.
Please Contact Us if you have any questions or need help in any way, We are here to help you.
Thank you again for stepping up and learning How to Teach Yoga to Kids.