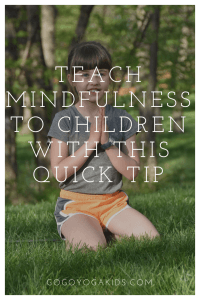 Children learn best by actively doing rather than passive watching. As a classroom teacher for nearly 20 years, I could not agree more. The old school lecture style of teaching of is thankfully not as common in the schools today. Children need to have visuals, be hands-on and engaged and that is when the true learning and attention truly occurs. Teaching mindfulness for kids goes along these same lines.
This is true for your kids yoga classes as well. Are children going to best learn the poses and breathing exercises while endlessly watching you? Yes, maybe, but they will not remember and retain near as well as if props and visuals are used. While demonstration and safety are important, there are several other ways to actively involve children in the learning process.
Use Props and Visuals
One way that I involve children a lot is by providing visuals. While teaching yoga poses, I like to use yoga pose cards that help showcase the poses that we are learning. My favorites are the Kids Yoga Challenge Pose Cards because of the included starred difficulty level as well as the mantras for each pose. With these cards, the children can easily look at the pose and model it to the other children and say the mantra. This way your students are getting the physical and mental benefits.
When I introduce mindfulness to children, I have found it is important to use visuals as well. As mentioned children retain information when they are seeing and experiencing it as well.
For this mindfulness exercise and visual all you need is a balloon. Children are usually mesmerized by balloons and especially enjoy as they are being blown up so this is a great activity that will keep their attention. I like to begin by holding a deflated balloon and ask the children to picture themselves as they wake up in the morning. They feel easy going and flexible just like the balloon.
How to Teach Mindfulness
Next, I stretch the balloon up and down and talk to the children about how they may stretch their bodies and feel calm, flexible and ready for the day. That is how you want to feel. After that, I would walk the children through a series of events that could happen throughout the day which could change how you feel.
For example, our dialogue may go something like the following, "Let's pretend that something disappointing happens in the morning, such as the orange juice is spilled at breakfast (blow up the balloon a little), then you can't find your backpack (blow up the balloon a little more), it is raining outside.  "Your best friend is gone from school" etc. Continue blowing up the balloon as this scenario is painted.
Finally, show how the balloon is really big and inflated. Explain how there are lots of feelings and emotions trapped up inside. What is going to happen? Can you continue in this way? No of course not.
With that much emotion and feelings bottled up inside, there is sure to be a consequence. Let go of the balloon and watch as it spins around and settles.
Ask the children, what can they do instead of letting things continue to bottle up inside?
Be still. Breathe. Take a moment.
It is important to help teach children to acknowledge their feelings, take note of them, but to understand how to deal effectively with them and then move on. By using this balloon visual the children will definitely remember it and will be better equipped to not keep those feelings bottled up inside.
Are you ready to dive in deeper with how to teach yoga and mindfulness to children? Our online Kids Yoga and Mindfulness Teacher Training is currently accepting new students. With over 90 application guides, teaching videos, and resources, you will be fully prepared and confident to teach yoga and mindfulness to children in the school, studio and home. Learn more here.
You May Like:
Learn How to Teach Yoga to Children
The Most Important Part of Teaching Yoga to Children
How to Teach Mindfulness With This Quick Tip