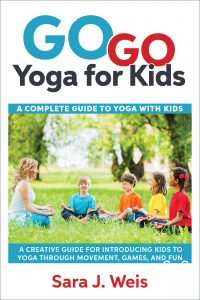 Stop the guesswork! Here are the tried and true recommendations of what works with teaching kids yoga! We have your best read-alouds, props, and resources!
---
 BOOKS
READ ALOUDS
*See our Hungry Caterpillar Lesson Plan here.
*Get our Kids Yoga Jungle Adventure Lesson Plan here.
*Brown Bear lesson plan included in the Go Go Yoga for Kids book.
Read our Book Review here.
YOGA POSE CARDS
YOGA GAMES
See how to use Jenga Blocks with teaching kids yoga here.
YOGA PROPS
See our Beachball Kids Yoga Lesson Plan here.
Perfect for introducing breathwork with kids.