Welcome to our Kids Yoga Lesson Planning 101 Free Training! Throughout this training we have learned how to put together engaging, successful, fun, and memorable kids yoga classes. Now we will learn how to build community.
Get all caught up here with the Most Important Parts Every Kids Yoga Class Needs:
Video 1: How to Plan Your Kids Yoga Class
Video 2: The Welcome
Video 3: Breathing Exercises
Video 4: Sun Salutations
Video 5: Active Movement
Video 6: Themed Yoga Poses
Video 7: The Yoga Challenge
Building Community comes toward the end of your kids yoga class. Everyone has had fun, learned a lot, and now it is time to bring the energy level down a little.
As a teacher, I know that it can be tempting to skip or rush this portion of class if you are feeling short on time. I encourage you to really make time for this building community portion of class. It is a very important part for your students as well as for you, their teacher.
As you begin to bring your yoga class to a close, it is important and beneficial to reflect on all that you have learned and accomplished during class. It makes the students feel stronger and more united as a class.
This is personally one of my favorite parts of class as it ties everything together. The children share what they have learned and what they have enjoyed. I love hearing about their favorite parts and often times I am surprised. Many times it is not what I think such as mastering a difficult pose, but instead it might be how they felt or how they connected with another student and maybe made a new friend.
Here are a few of our favorite ways to Build Community in your Kids Yoga Classes. Give them a try. They love it and it truly begins to bring your class to a close.
How to Create a Thunderstorm With Kids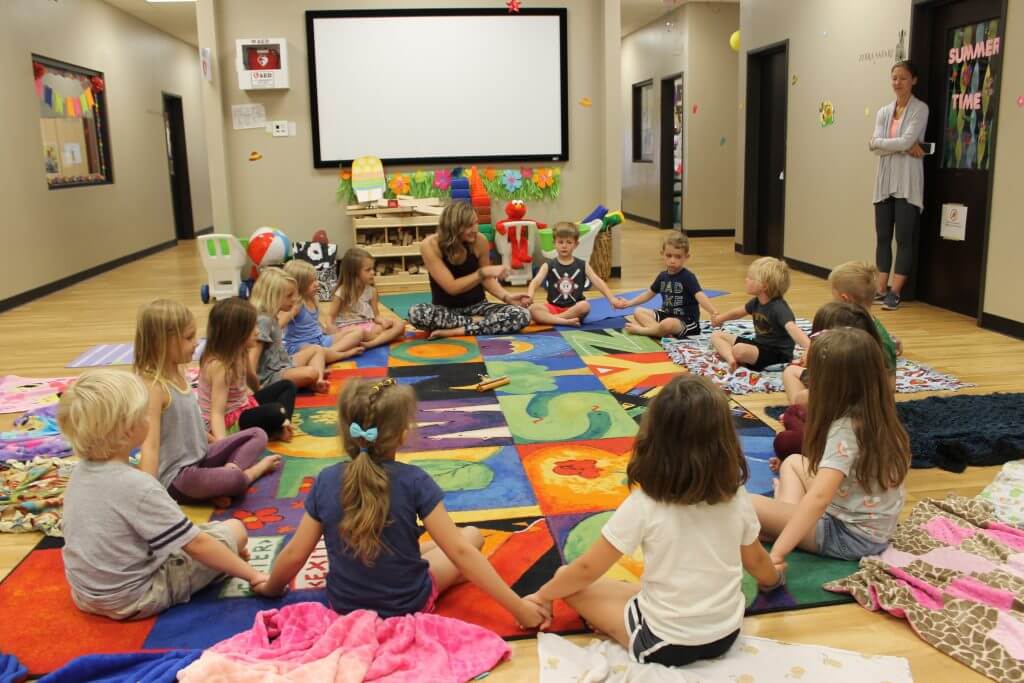 We have many more ways to Build Community in our bestselling book, Go Go Yoga for Kids: A Complete Guide to Yoga with Kids
Now you are ready for the final part of your Kids Yoga Class: Stillness and Savasana (Part 9) Kids Yoga Lesson Planning 101.
You May Also Like:
Kids Yoga Teacher Favorite Props and Resources
This Changed Everything in My Kids Yoga Classes