Part 2: Breathing Exercises for Kids
Hello and welcome! Thank you for joining us for our Kids Yoga Lesson Planning 101 Free Training. This section is about breathing exercises for kids.
Find your workbook and get all caught up with the Kids Yoga Lesson Planning 101 Training here.
After the first part of your Kids Yoga Class which is The Welcome, the next portion involves helping your students slow down and become aware of their breath and how their bodies feel. This is not as easy as it sounds!
Breathing Exercises
When I first started practicing yoga, I used to believe yoga was only about the movement and holding poses. I quickly learned that your breath is actually more important than the poses. If you can hold the pose, but aren't taking the long deep breaths, then you are actually not doing yoga. It is the breathing that makes it yoga. On the other hand, you could lie in Child's Pose and breathing for an entire yoga class and that would be yoga.
Breathing with purpose during yoga lets you hold the pose longer and feel stronger while holding it. In addition to this, breathing deeply and consciously helps to strengthen the nervous system, calm anxiety as well as settle into the class and be in the moment.
Kids, however, do not care about any of the above! Therefore it can be difficult to teach children to become aware of their breath. Kids are busy and wiggly, so it is important that you bring these breathing exercises to their level and interest.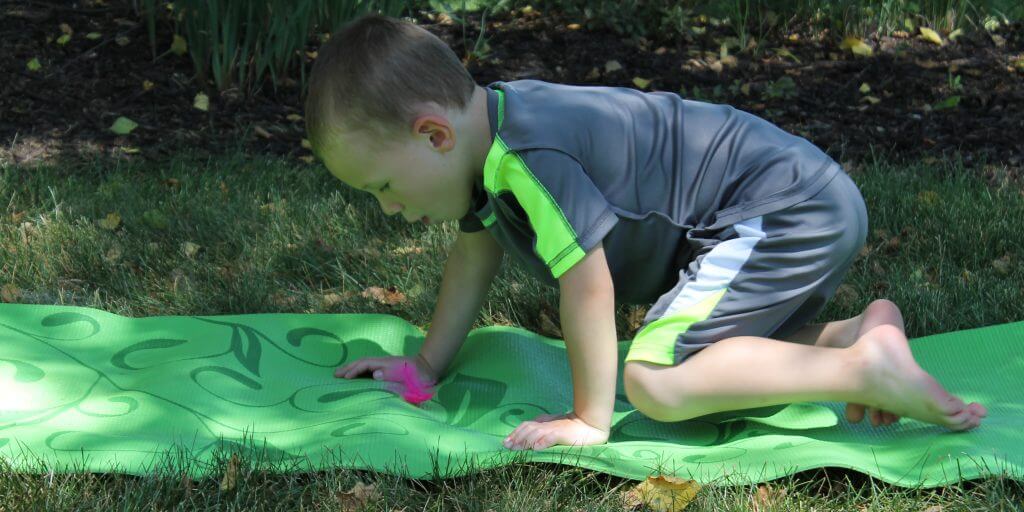 Do not worry, we have you covered! There are several ways to practice mindful breathing in a yoga class, but the main goal is to make the children aware while slowing down their bodies and their breath. This is done through child-friendly breathing exercises.
Favorite Breathing Exercises
Breathing Exercises That Really Work With Kids
Top 3 Breathing Exercises for Anxious Kids
How to Use a Breathing Ball or Hoberman Sphere for Kids
Spending just a few moments ( it doesn't need to take long!) slowing down, being mindful, and teaching children to pay attention to their breath will become easier and easier with practice.
Our bestselling Kids Yoga books below include dozens of ideas to make breathwork NOT boring for Kids!
You are also ready for the next part of your Kids Yoga Class: Sun Salutations Made Simple.
You May Also Enjoy:
How to Teach Mindfulness to Children with This Quick Tip