Welcome to the Kids Yoga Lesson Planning 101 series. I am glad that you are here. You can get all caught up with the videos below:
Why you need a Kids Yoga Lesson Plan before you even think about teaching yoga to children.
Part 1: The Welcome: How to engage your students right from the start.
Part 2: Breathing Exercises: Made Relevant and FUN for Children
Part 3: Sun Salutations Made Simple: Connect Movement with Breath
Part 4: The Importance of Active Movement: Get hearts pumping, build strength, and get wiggles out.
Now you are ready for Part 7 of the Kids Yoga Lesson Planning 101 Training:
The Kids Yoga Challenge!
Congratulations! Now you are well over halfway through with your yoga class. Your students have moved, breathed, learned a lot and had fun! Now it's time for Part 7 of your Kids Yoga Class with The Yoga Challenge!
With the Yoga Challenge portion of your kids yoga class, your students will have the opportunity to work on a challenge by themselves or together with the group. Select one of the options below and spend 7-9 minutes having fun with the Yoga Challenge.
The Yoga Challenge Options:
1. Balance Poses:
Select a single balance yoga pose for the children to work on. This could be Airplane Pose, Dancer Pose, Tree Pose or may others. We like to use The Kids Yoga Challenge Pose Cards to help provide a visual. When placed on the floor, they also provide a wonderful focal point.
Kids love to work on balance in yoga class because it is fun and challenging. They often don't realize that they are acquiring a skill that improves each time they practice. This is good news because studies have shown that our balance decreases as we age beginning at age 7. With practice, we can maintain this balance.
2. Inversions:
I understand that Inversions can sound scary to try…especially with kids. The great news is that Inversions do not need to be difficult to do and the benefits are enormous. Find out how to practice our favorite Kids Yoga Inversions here.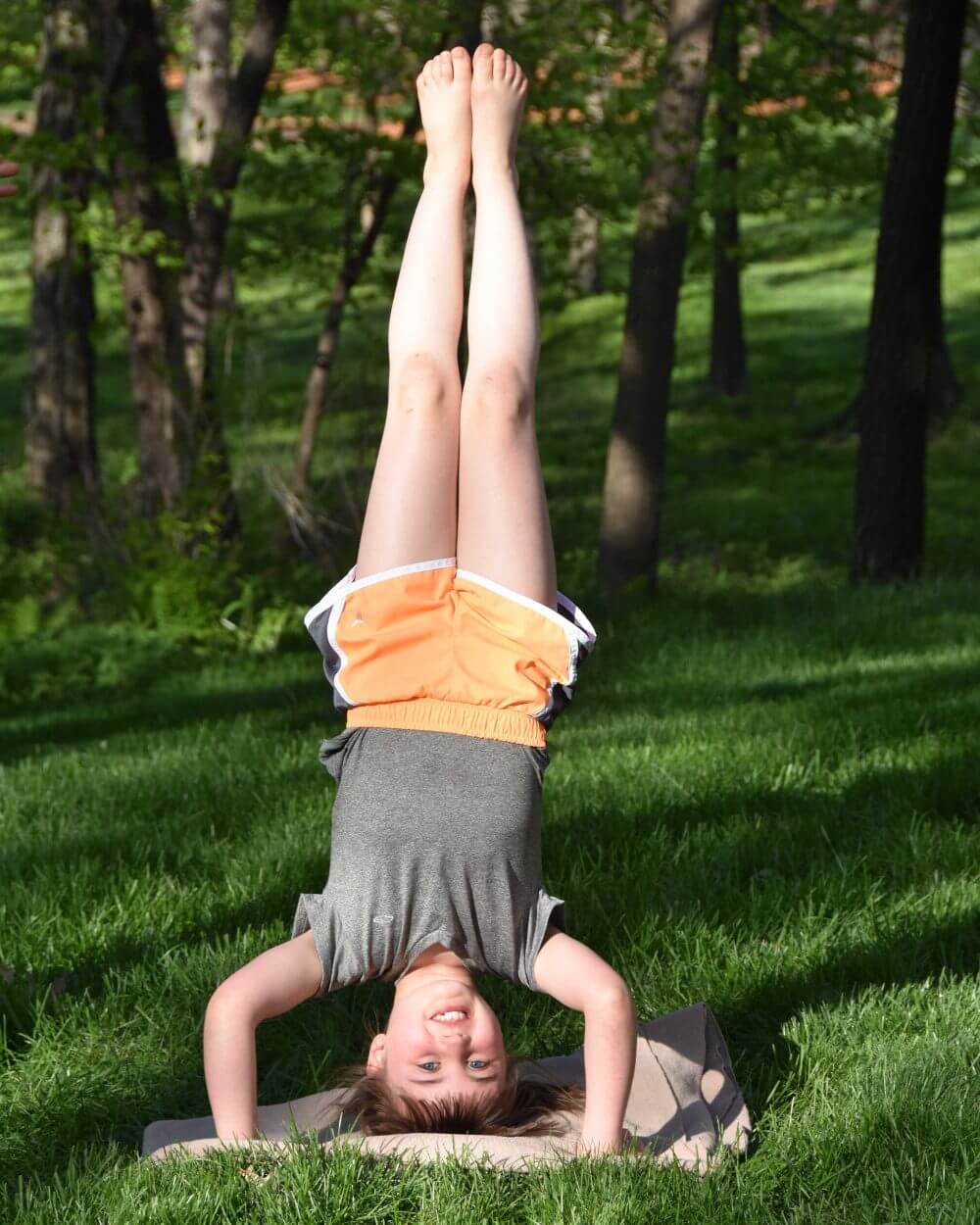 3. Partner Yoga Poses:
Kids love partner yoga poses! Partner yoga poses help teach children the importance of teamwork and working together plus they are fun to do and build trust and community with one another. Check out our all-time favorite Kids Yoga Partner Poses here.
4. Group Yoga Challenge:
This type of yoga challenges are some of my favorites. Do not overthink this, it can be anything from standing in a circle and passing a hula hoop without letting go of hands. It can also be a Group Tree Pose or a Down Dog Tunnel. The point is to get the children working together to achieve a goal while having fun!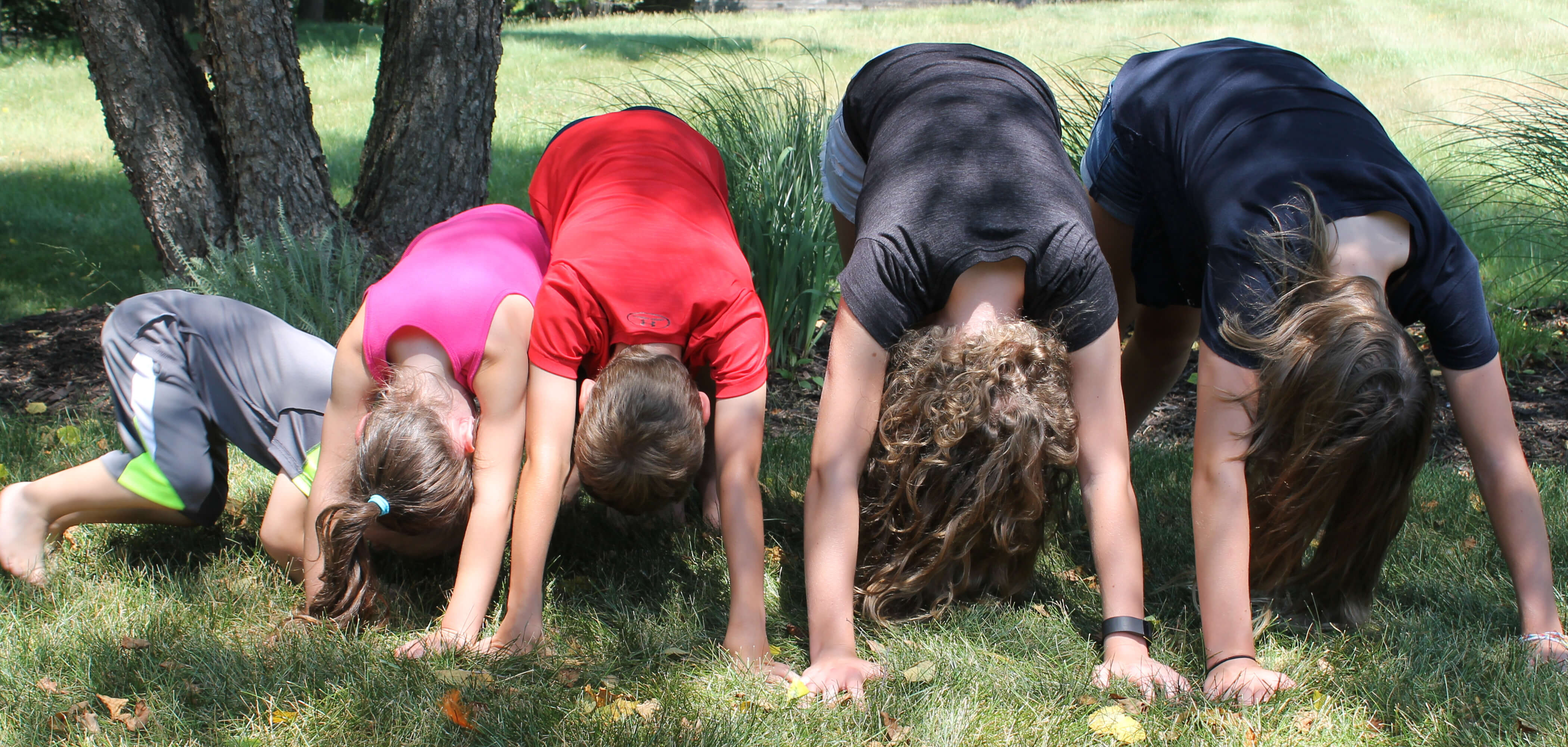 The Yoga Challenge is an important part of your kids yoga class for differentiation and meeting the varying needs of your students. Everything can be modified.
This challenge allows the children the opportunity to work on more difficult poses by themselves or within the group. This builds trust and community.
More Favorite Kids Yoga Partner Poses:
Tips on Working With Partners in a Kids Yoga Class
Partner Poses Kids Love to Show Off
Video of a Partner Pose Kids Yoga Class