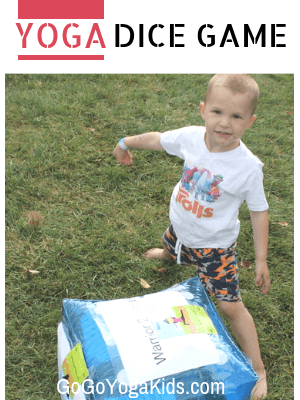 I  love introducing yoga to children and have been thrilled that Go Go Yoga for Kids has gotten to be a part of many fun family events as well as author events this past year.
I feel uncomfortable just sitting behind a table, and I would much rather interact with the children and introduce them to yoga through a variety of ways.
Often when Go Go Yoga for Kids does an event, I will teach a kids yoga class, or offer mini yoga sessions so the children can get an opportunity to try yoga in a relaxed and fun atmosphere.
This past weekend we had  an event at a zoo so I was ready with zoo animal yoga poses and our popular Off the Zoo Kids Yoga Lesson Plan.
A new favorite kids yoga game to play is the Yoga Dice Game. For this game you need a giant dice. I found a fun inexpensive blow up one on Amazon.
Select 6 different poses that you want the kids to work on from the Kids Yoga Challenge Pose Cards.
Use packing tape or clear tape to attach the poses to the dice.
I also printed out labels for the poses. This step isn't necessary as the pose cards already have the names of the poses on them.
Each player takes a turn to roll the dice. Whatever pose comes up, the player does that pose.
Continue rolling the dice until all of the poses are mastered.
See another fun way to play the Kids Yoga Dice Game here.
For the Zoo Kids Yoga Event, I had animal stickers to give the children when they tried the pose. It is not necessary, however, as the kids just had fun rolling the giant dice.
I also love that you can continue changing the poses on the dice so the game continues to be fresh and fun. It also works great for all ages. Have fun playing the Yoga Dice Game!
Want over 100 more kids yoga game and activities? The bestselling Go Go Yoga Kids: A Complete Guide to Using Yoga With Kids has you covered with all you need to know for introducing yoga to children.
You May Also Enjoy:
Kids Yoga Teacher Favorite Props & Resources