Find your copy of  Go Go Yoga for Kids:
Go Go Yoga for Kids is a complete and creative guide for introducing kids to yoga through movement, mindfulness, fun, and games. By introducing yoga to kids, you will be able to empower them with lifelong skills. This guide includes everything needed to use yoga with kids.
Love Libraries? We do too! Check out Go Go Yoga for Kids at the following Public Libraries 
Get the inside scoop on yoga tips, games and unique lesson plans to use with kids of all ages by signing up for our free monthly Go-Go Yoga Kids newsletter.
I love to hear from readers! Please email me at sara@gogoyogakids.com and follow us on:
http://facebook.com/GoGoYogaKids
http://twitter.com/GoGoYogaKids
http://pinterest.com/GoGoYogaKids
https://www.instagram.com/gogoyogakids/
If you are interested in receiving a review copy, please e-mail sara@gogoyogakids.com
About the Author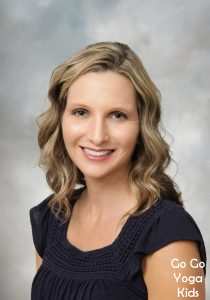 Kids, yoga and teaching are truly Sara's passions and with the creation of Go-Go Yoga Kids, it was the perfect opportunity to put together the things she loves and the chance to share it with others. "I really want kids to be introduced to the lifelong benefits of yoga in a fun, creative and engaging way," says Sara. "Now is the perfect time to get kids involved with yoga. The benefits across the board for the whole child are too big to miss."
With over sixteen years of teaching experience in the schools and countless hours spent creating and teaching yoga games, lessons and movement ideas to hundreds of children with the goal being able to reach and empower many kids through yoga.
Sara is a certified kid and adult yoga instructor who makes yoga with kids or adults part of her daily routine. She holds Bachelor Degrees in Early Childhood and Elementary Education as well as a Master's Degree as Reading Specialist in Education. She currently teaches elementary creative writing classes for the West Des Moines School District and leads kids yoga for a nationally known health and fitness club.
When she is not teaching, writing or practicing yoga, Sara enjoys reading, spending time outdoors with her three young yogi kids and her husband Dave; traveling to new places, having adventures, but mostly being home with those she loves most.