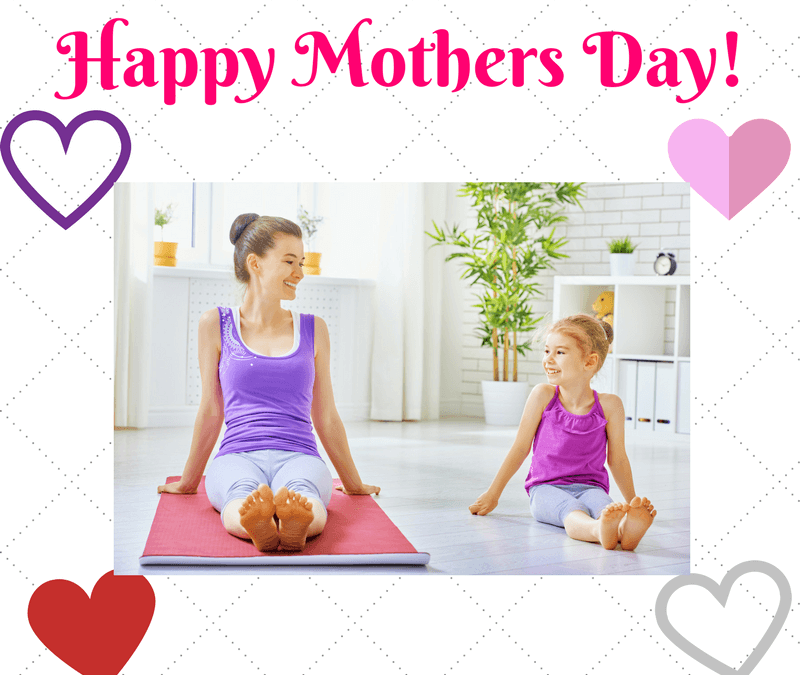 "Mother's hold their children's hands for a short while,  but their hearts, forever…" –Unknown
Celebrate Mother's Day with these Family Fun Yoga Ideas!
Back to Back Breathing:
Back to Back Breathing is a wonderful and relaxing way to connect with your children. It also builds mindfulness. Sit tall in a comfortable position with legs crossed. Slowly rest your back gently against your partner's back. Encourage your child to try to notice your breath. Is it shallow or deep? Fast or slow? Can they feel your back move as they breathe? This is a really sweet partner exercise for any age and feels so comforting to lean against another person like that.
Family Trees:
Stand in a circle side by side and touch palms to help balance each other. Then take one foot and place it on our leg. Bring your branches (hands) up taller. Remember to switch legs. Notice how you are all stronger when you work together!
Legs Up the Wall: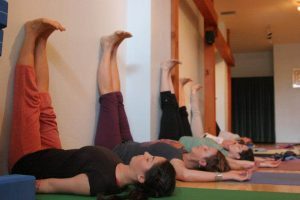 Kids and adults both love this relaxing yoga pose! Scooch up close to a wall and lie flat on your back. Slowly raise your legs straight up against the wall which makes an L shape with your body. Keeping your legs together, flex your feet. Relax your arms to the side and keep your neck in a neutral and relaxed position. Close your eyes, and take a few moments and rest in this incredible restorative pose! This can also be done as Partner Legs Up the Wall Pose.
Toega: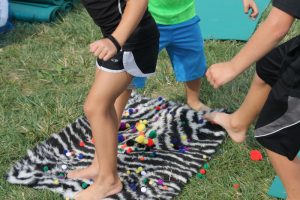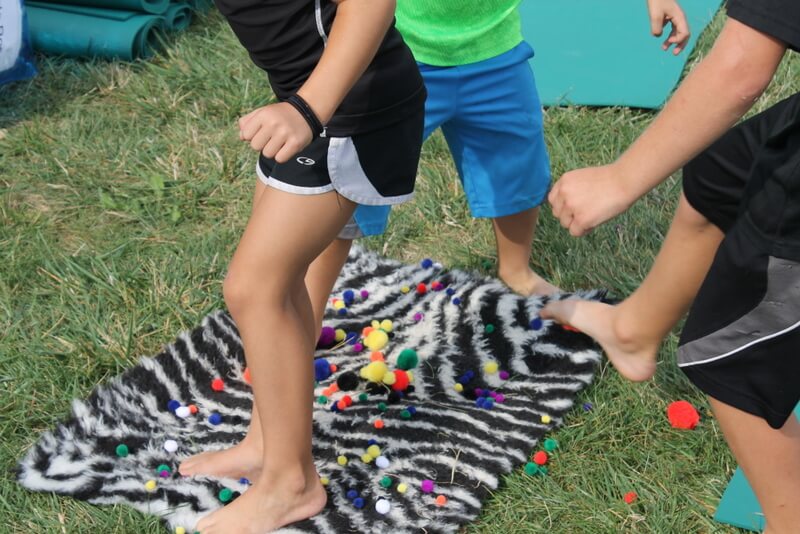 Toega is the perfect yoga game to play with all different ages. What exactly is Toega? It is yoga for your feet! Kids love this simple exercise and it is good for them as well. All you need are some colored pom pom balls and bare feet! It is fun and easy to play. Find out how to play here.
You May Also Like:
Partner Poses Kids Love to Show Off