Get things hopping with Go Go Yoga for Kids and these Spring yoga themes, poses, games and lesson plans below!
Get your FREE complete Easter Egg Kids Yoga Lesson Plan with all of the Spring yoga poses, games and activities.
Begin with Bunny Breath: Kids love this calming and fun breathing exercise. Pretend to be a bunny as you take short quick sniffs through your nose.
Pretend to Be a Flower: Next get kids moving while pretending to be a seed in the ground ready to bloom into a flower. Does your flower grow quickly or slowly?
Learn some Easter and Spring Yoga Poses: Select 3-5 yoga poses for each yoga session. I like my yoga poses to correspond with our yoga theme. Your Spring Theme Yoga Poses are included in the lesson plan.
Play a Yoga Game: After learning and practicing the Spring Yoga Poses, it is time to practice the poses and work o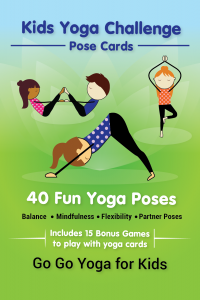 n some balance exercises that are given in the lesson plan. If the children are up for a challenge, try Raindrop Partner Pose. You can find this partner pose and 40 additional poses with the Kids Yoga Challenge Pose Cards.
Circle Showcase: Bring your kids yoga class to a close by having a Spring Yoga Show with the children showing off their favorite yoga pose.
Time for Rest: After the Spring Yoga Show it is time for Stillness and Savasana. Have the children gently curl up as if they are a bunny in their nest or hold. See if they can notice the rise and fall of their breath. It is so very relaxing and calming.
For more kids lesson plans check out A Complete Guide to Yoga With Kids, Yoga Lessons for Children, and Yoga Games & Activities for Children.
You May Also Like:
7 Super Benefits of Yoga for Kids