I love reading aloud to kids. Whether it is to my own children, my students at school or during my kids yoga classes, there is just something about using literature with kids that can be calming, engaging or enlightening.
Depending on which book you are reading aloud can bring forth all sorts of teachable opportunities or memorable moments.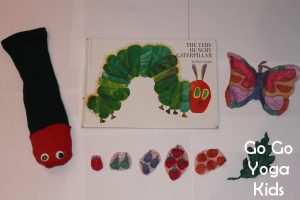 The Go Go Yoga for Kids: A Complete Guide to Using Yoga with Kids resource includes an extensive quality yoga read aloud list and lesson ideas to use with these books
Let the book come alive by reading with enthusiasm and emotion! I have found the illustrations help children visualize or pretend to become that animal or feel as if they are in the story. When you add movement, the kids will remember the poses and the story even more as they anticipate what comes next.
Two Favorite Yoga Read Aloud Books (and Free Kids Yoga Lesson)
The Very Hungry Caterpillar by Eric Carle: Begin as Caterpillar and end as a beautiful butterfly: Kids can transition through the different stages of becoming a butterfly through yoga poses. See how with Go Go Yoga Kids FREE Springtime Transformation lesson here.
Mouse Count by Ellen Stoll Walsh: Is a fun choice to practice mouse and snake poses with this book. You can be used to introduce the concept of being "quiet as a mouse" for Savasana.
See many more book resources and lessons at Go Go Yoga Kids Resources.