Congratulations on taking the first steps toward changing kids lives in such a positive way! The benefits of yoga for kids are huge and Go Go Yoga Kids: Empower Kids for Life Through Yoga wants to help you plan and be prepared to teach yoga to kids. Be sure to read our previous post on ideas on where to find places to teach yoga to kids.
Setting Up Your First Yoga Classes for Kids: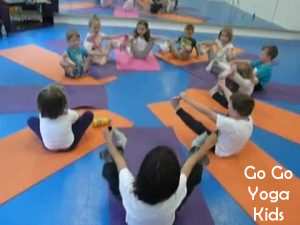 When you are just starting out teaching kids yoga at a new location, it is good to offer a 6-8 week session. This is good for several reasons.
It doesn't commit parents, the director, or yourself to a long term commitment.
This gives kids an opportunity to try something new, learn new skills, and recognize the benefits of yoga. They will become so hooked on yoga and will want to continue learning more after that first session!
It gives you, as the instructor, the opportunity to step back and evaluate how things went. What would you change for next time? Did the age groups work well? Evaluating after each class helps you improve, change, and build on what you have learned.
Stay tuned for the book release of Go Go Yoga Kids: Empower Kids for Life Through Yoga. This comple resource will have everything needed to know to go and start your kids yoga classes! In the meantime, for even more  yoga  games, kids yoga classes tips and lesson plans sign up for our newsletter.