Go Go Yoga Kids: Empower Kids for Life Through Yoga wants to help you plan and teach yoga to kids. I am so excited to share with you creative lessons and games that kids will love. Stay tuned to Go Go Yoga Kids!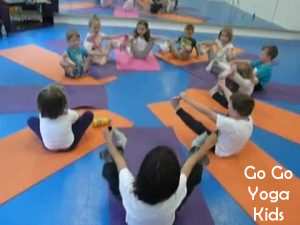 The kids yoga teaching opportunities are definitely out there and will take a little effort, but the benefit for you (and the kids!) is lifelong. The following are a few of the places that offer yoga for kids or can be contacted about leading classes or workshops.
Parks and Recreation programs in your local area
Sports and Wellness centers, such as YMCA's or other health clubs
Library programs
After school programs
Homeschool and co-op groups
Preschools
Daycares
Fairs/Festivals or other children's events
Yoga studios
Churches
Boy Scouts/Girl Scouts
4-H clubs
When I first wanted to teach yoga for kids, I started looking for locations to offer classes. I began with places where I already had a connection. One was a local health club where I was a member and the other was a nearby preschool that I'd had experience with. I called and set up a time to meet with the director of the youth programs. I was prepared with what I was going to say and brought along samples of the lessons I would use.
Good kids yoga teachers are a special find, and word will travel fast that you are equipped and passionate about reaching all different types of children through yoga. You are in a position to positively influence kids through yoga and introduce them to many lifelong skills and benefits. Read more here about making a difference in kids' lives through yoga.
Go Go Yoga Kids is here to help you with all of this. Stay connected for more ideas on connecting kids to yoga.