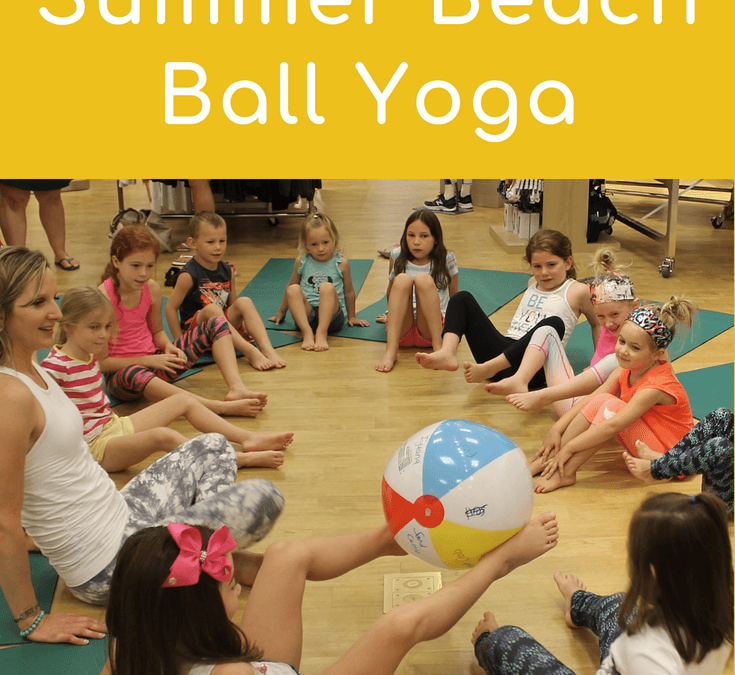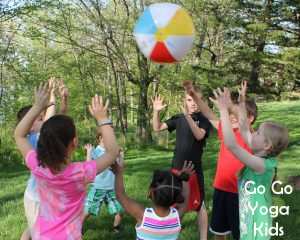 What is one of my favorite things about teaching yoga for kids? There are so many fun and creative ways to introduce poses! Beachball Yoga is one of my favorite games to use with all ages of children… especially in the summer.
Buy an inexpensive blow-up beach ball. I got mine from the Dollar Store. With different colored permanent markers write a variety of yoga poses on the beachball. I like to make my poses summer and ocean theme related.
Pose Examples to Write on the Beach Ball:
Shark (Shark Pose)
Iguana (Plank)
Swimmer (Superman Pose)
Dolphin (Dolphin Pose)
Mermaid (up dog)
Sunflower (bend at waist, hold opposite elbow, and circle up and around while holding elbows)
Beach chair (Chair Pose)
Crab (Crab walks)
Sand castle (Down Dog)
Palm tree (Tree Pose)
Surfer (Warrior 2)
Fish (Fish Pose)
Jellyfish (bend at waist and let arms hang down)
Turtle (Turtle Pose)
Starfish (Savasana)
How to Play
Toss the beach ball around the circle. When a child catches it, have them read the pose nearest their thumb. Introduce that pose to the class and everyone can practice it. Then have the ball be tossed again to another student and go again. This is such a fun way to learn lots of different poses!
Check out our recommended kids yoga resources.
Need more Beach Ball Yoga ideas?
You May Also Like:
Fun in the Sun Kids Yoga Class