Go Go Yoga for Kids is thrilled to announce the launching of the Kids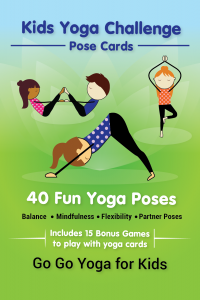 Yoga Challenge Pose Cards internationally! Now you have the option to purchase directly from our store, Amazon.com or Amazon.uk.
The Kids Yoga Challenge Pose Cards will challenge you and your kids with balance, flexibility, mindfulness, and more. This yoga cards for kids deck includes 40 poses including partner poses, confidence building pose mantras, and fun games to play together using these cards.
The Kids Yoga Challenge Pose Cards Include: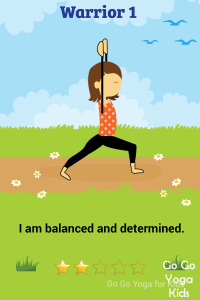 40 progressive yoga cards for kids including partner poses
Empowering pose mantras for beginners and meditation
Poses rated from 1-5 stars based on levels
 Easy to follow poses to create many original yoga flows
15 Bonus Games to play using these pose cards
Tested and proven yoga poses to bring most mental and physical benefit
Takes only minutes each day to gain lifelong skills and health benefits
Comes in a fun drawstring burlap bag
---
Read what others are saying about the Kids Yoga Challenge Pose Cards.
The Go Go Yoga for Kids Yoga Challenge Pose Cards are an excellent product for parents, teachers, and kids yoga instructors alike! The illustrations are bright and colorful, and the cards can be used in so many different ways. My kids just love practicing the poses, and we can't wait to try the suggested games. These cards are a great companion to Sara's book but can also be used on their own. Highly recommend!!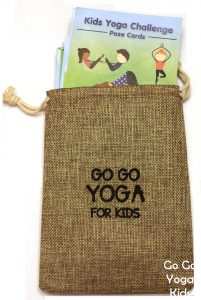 –Erin Leach
These cards are awesome! Simple, kid-friendly pictures and an inspiring statement to go with each card. I used these in my Kindergarten classroom and was able to quickly and easily teach a handful of poses. There is a card with suggested ways to use the cards and suggestions for games to play with them, too. Will purchase more sets of these to use as gifts and give to fellow educators and parents.
–Kate Virgil
Find out more about the Kids Yoga Challenge Pose Cards.