Happy Spring from Go Go Yoga for Kids!
Spring is in the air!
Find your Free Kids Yoga Spring Mandala here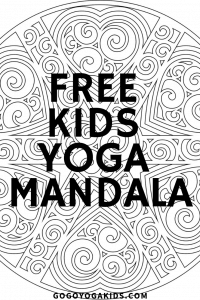 Want more Spring Family Yoga fun? Let's celebrate Spring and our Earth with our fun Family Spring Yoga Sequence. This is a sequence of Spring yoga poses that will help get us ready for Spring and all of the changes happening outside! 
How to Teach our Spring Sequence to Kids:
What is happening outside right now? The grass is getting green. Trees and flowers are growing and sprouting their leaves. Baby birds are hatching and animals are coming out of hibernation. There are many plants and animals that are changing by the day at this time of year! It is very, very exciting with all of the things that are happening with our Earth during Spring.
LESSON PLAN TIPS:
This Spring Yoga Sequence can be done with kids of any age. You can also practice this yoga sequence by yourself. It just feels good in your body for sure and a fun way to celebrate Earth.
You do not need any materials or resources just a place to move your body! I will be using our Kids Yoga Challenge Pose Cards that have yoga pose visuals for the poses we will be practicing. It is always good to have visuals when practicing yoga with kids.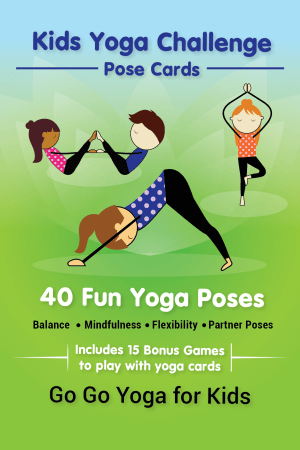 The Kids Yoga Challenge Pose Cards will challenge you and children with balance, flexibility, mindfulness, and more. This card deck includes 40 poses including partner poses, confidence-building pose mantras, and fun games to play together using these cards.
The Kids Yoga Challenge Pose Cards include:
40 progressive yoga poses including partner poses
Empowering pose mantras for beginners and meditation
Poses rated from 1-5 stars based on difficulty
Easy to follow poses to create many original yoga flows
15 Bonus Games to play using these pose cards
Tested and proven yoga poses to bring most mental and physical benefit
Takes only minutes each day to gain lifelong skills and health benefits
You May Also Enjoy:
Easter and Spring Kids Yoga Games, Activities, and Lesson Plans
Springtime Yoga Sequence for Kids