Parents are busy. Kids are busy. Here is how you can get your yoga workout in AND have fun making memories with your kids. Sounds like a win-win situation to me! If you want more easy ideas on getting your kids involved with yoga see here.
Partner Up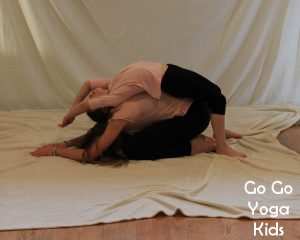 There are many fun child yoga poses that can be done with adults and children. Look here for fun Partner Pose ideas that can be done with your kids.
Watch a Video
Not feeling too creative or need some fresh ideas? Check out a You Tube video. There are some fun videos you can find related to kids yoga. While there Subscribe to Go Go Yoga Kids for updates. We will be up and running there soon!
Use a Story:
This is one of my favorite ways to practice yoga with kids. I love reading aloud to my kids and I know how important that is. By reading a story to them they will receive the benefits of reading aloud AND practicing yoga! Here are some of my favorite read alouds that allow  opportunities to try some yoga poses.
Feel like you have those ideas mastered or need some additional inspiration? For more ideas look at our post on even more ways to incorporate yoga, kids, and home.