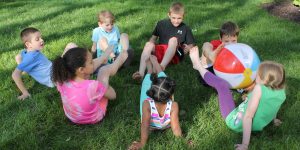 GROUP YOGA CHALLENGE:
Beach ball pass with a twist! This is a great teamwork effort, core workout and fun for the kids as well! Sit in a circle and pass the beach ball with your feet. See if the ball can be passed with feet without using hands in the circle. Time the students and see if they can beat their record. Try not to let the ball touch the ground!
Need a beach ball? You can find one here.

How to Play Beach Ball Yoga
First: Blow up an inexpensive beach ball.
Then: With a permanent marker write down summer yoga poses such as shark, boat, mermaid, sunflower, starfish etc. Get your list of "beach themed" yoga poses below.
Next: Assemble all willing and excited participants in a seated circle. I like to start out seated because it gives an opportunity to time how fast we can pass the beach ball in a circle. This also eliminates frustration from the child that is having a hard time focusing on the game because they "have not gotten to touch the beach ball yet."
Finally: Stand up and toss the beach ball across the circle. The person catches it and looks to see what pose their right thumb is near. Everyone practices the summer yoga poses. Play continues until every pose has been introduced and practiced.
Find the Best Kids Yoga Summer Yoga Poses here.
You May Also Like:
How to Play Summer Beach Ball Yoga
Three Things You Didn't Know About Teaching Yoga to Children