Celebrate National Yoga Month With Kids and Partner  Poses:
If you can master these and want to try even more, check out the bestselling Go Go Yoga for Kids: A Complete Guide to Using Yoga with Kids for many more poses, partner and group pose ideas.
For even more of a challenge try the 30 Progressive Poses with our Kids Yoga Challenge Pose Cards.
Raindrop Partner Pose
See Saw Partner Pose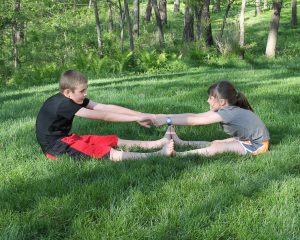 Double Boat Partner Pose
The Best Yoga Poses for Kids
Get kids fit, flexible, and focused with the Best Yoga Poses for Kids Guide.