SARA J. WEIS is a creative and passionate teacher that has inspired ch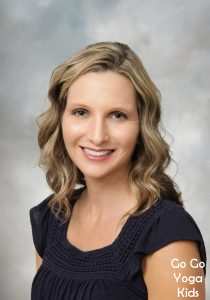 ildren for over eighteen years. She is the bestselling author of Go Go Yoga for Kids: A Complete Guide to Using Yoga With Kids. 
Sara is also the creator of The Kids Yoga Challenge Pose Cards and the How to Teach Yoga to Kids online course.
She has combined her experience as an elementary and junior high teacher as well as a certified kid and adult yoga instructor to help introduce children to the lifelong benefits of yoga.
Sara holds a master's degree in education as well as bachelor's degrees in early childhood and elementary education. She has invested countless hours creating and leading yoga games, lessons, and movement ideas with thousands of kids. She knows which techniques work, and just as important, which don't work. Sara feels strongly about having all of the ideas, strategies, and lessons in place so that anyone who works with kids will be able to introduce yoga with confidence and success.
Sara leads kids yoga classes for a nationally known health and fitness club. She lives in West Des Moines, Iowa, with her three children and her husband. For media inquiries, please call 515-480-2967 or use the contact form below.
Go Go Yoga for Kids takes our subscribe privacy seriously. We will not share or sell you email address.
.
.