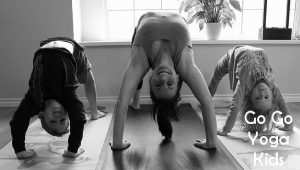 If you are already teaching kids yoga or even if you are just beginning to learn some yoga poses, you have probably already experienced, read or heard about the benefits of yoga for all ages. Why wouldn't you want to introduce it those you care about most? Your family and loved ones need to know about this!
I love how yoga actually lets you connect with your child and is something you can actually do with them as opposed to being a spectator to such as soccer games, dance recitals, piano recitals, etc. Don't get me wrong, I love cheering my kids on at any of their sporting events or competitions, but the memories are made when you actually do something with them.
It doesn't need to be a big orchestrated event, just get down on the floor and be engaged. They will love it!
Easy Ways to do Yoga At Home With Your Kids
Make it a Routine: Doing some yoga poses together does not need to take long. Incorporate some little ways to use yoga at the same time every day. It could be first thing in the morning or by doing some bedtime calming stretches each night. These are good places to start!
Use Props: Grab some beach towels or yoga mats to lay out and sit on. Kids love having their own space and this will give them boundaries and a sense of ownership. Include your child's favorite stuffed animal and have it participate along with you.
Pick a Card: I love these Yoga Pose Cards and they are great for providing a visual. Let them pick 3-5 yoga pose cards at a time to learn, practice and have fun with. Make sure that you participate as well and gain all of the benefits too.
Teaching kids yoga at home doesn't need to take long. Just have fun with yoga together and make it a part of your life. There is no right or wrong way, but the simple fact that you are together, learning and moving will create lasting memories with your children!
For more ways to teach yoga to your kids visit here.