Who is excited for the Summer Olympics:
What is your favorite Summer Olympics event?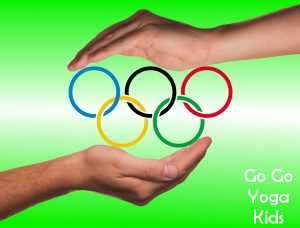 I have always enjoyed watching gymnastics. Seeing the athletes twist, turn, and defy gravity was thrilling. I was so enthralled with those gymnasts achieving that "perfect 10" score. Who wouldn't remember Mary Lou Retton?!
Now years and life experiences later, I truly appreciate all endurance sports. Participating in triathlons, marathons, and swimming events has given me perspective. Training and competing in high-level events is really a body and mind connection…for every sport!
Kids often have the dream of making it to the Olympics.  I love their confidence that they can do anything. That vision is a precious time period in kids' lives and now they can experience an Olympian feel!
Go Go Yoga for Kids wants kids to have fun getting focused and fit! With our Go Go Yoga for Kids  Summer Olympics plan, they will become swimmers, archers, and equestrians while strengthening their mind and body.
Get your free Go Go Yoga for Kids Summer Olympics Guide! Let's go for the Gold!