Below is a portion of the transcript of the:
How to Teach Yoga to Kids
Online Teacher Training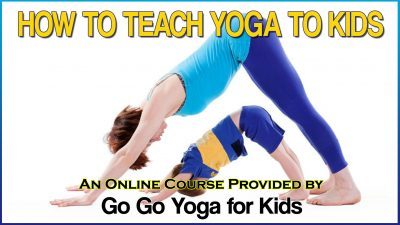 Section 4 – Yoga Poses for Kids
How to Teach Age Appropriate Yoga Poses
Now we're getting to the yoga poses for kids. After you utilize your breath work and get your body centered and focused you're ready to work on some yoga poses. I'm going to show you some fun ways to engage students with poses. Kids love to learn new yoga poses.
Yoga poses are also a great way to differentiate and accommodate for the varied needs and abilities of the kids you're working with. I like to choose 3 to 5 yoga poses and group them together with a common theme so kids will remember them.
As you introduce each pose ask children what parts of their body they feel working. In your course resources part, I have an illustrated kids yoga pose guide. It's got 45 yoga poses that you can see if you're not familiar with the yoga poses yourself.
Join our Online Kids Yoga & Mindfulness Teacher Training and get your illustrated yoga pose guides.
I also love using, the Kids Yoga Challenge Pose Cards. These are a deck of 40 Yoga Pose Cards. They're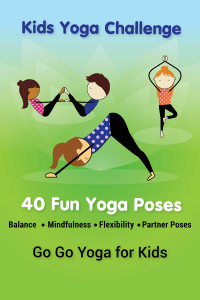 bright and colorful. They include partner poses too that the kids can use and see how the poses are made.
I also love props to introduce yoga poses. Our online Kids Yoga & Mindfulness Teacher Training shows favorite yoga props which help introduce the yoga poses with and create anticipation.
Kids love themes while practicing yoga. In the course, I will show you some themed yoga poses that you would do if you were learning about the ocean, jungle or the zoo. It is fun to see how the poses fit together with the theme which helps the kids better remember and practice the poses.
Included in our Kids Yoga & Mindfulness Teacher Training are kids yoga lesson plans that are all themed with yoga poses, the breath work and everything that you need to teach yoga to kids.
For more kids yoga lesson plans please see our bestselling books Go Go Yoga for Kids: A Complete Guide to Using Yoga with Kids and Go Go Yoga for Kids: Yoga Lessons for Children.
Join our online Kids Yoga & Mindfulness Teacher Training and receive your bonus kids yoga lesson plans.
You May Also Like:
How to Play the Listening Game with Children
How to Keep Your Students Engaged Throughout Class