It was such a pleasure to be invited to lead a Kids Yoga and Mindfulness in the Preschool Classroom workshop for early childhood educators about yoga for preschoolers in the Dallas, Texas area.
Our 2.5 hour teacher workshop included tips and resources for teachers to be able to implement right away into their classrooms this school year.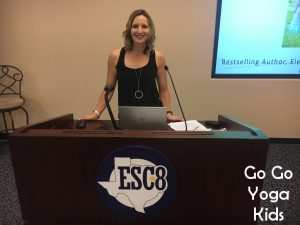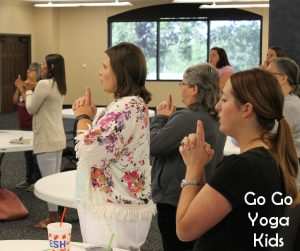 Here are just a few of the topics we covered:
Breathing and calming exercises that truly work with this young age group
How to utilize movement and yoga during classroom transition times
The best yoga poses for these young growing bodies
Incorporating yoga and mindfulness into existing preschool themes
Classroom yoga games and mindfulness exercises
The best read aloud books for this early childhood age group
How to bring about stillness and relaxation within the classroom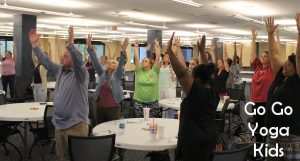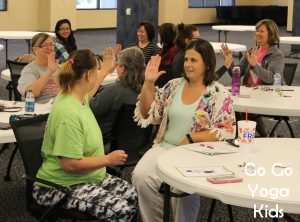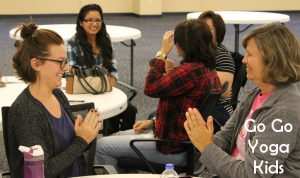 These teachers were engaged, enthusiastic, and ready to bring mindfulness into yoga for preschoolers.
All attendees received a copy of Go Go Yoga for Kids: Yoga Lessons for Children and The Kids Yoga Challenge Pose Cards.
---
If you liked this, you may enjoy learning about our Kids Yoga & Mindfulness Online Teacher Training.
Learn more here.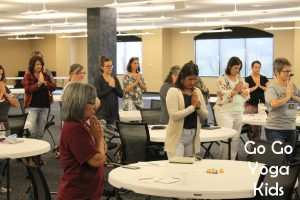 I know that you are passionate about reaching children through yoga and you are in the right place! Creating kids yoga lesson plans is one of my favorite things to do. It must be the teacher in me, but I love putting what kids are interested in and tying in yoga poses, games and mindfulness exercises to help teach yoga to children while providing moments that they will remember.
I want to help you be successful, confident, and ready to enrich children's lives through yoga. We can do this together! Our FREE Kids Yoga Lesson Planning 101 Training begins with the heartbeat of kids yoga which is how to plan an engaging and memorable kids yoga class.
You can have all the desire in the world to teach yoga to children, but if you don't have a plan in place then there will be opportunities missed and it will not be as impactful for your children.
You May Also Enjoy:
Kids Yoga Teacher Favorite Props and Resouces